Wiatr i Energia odnawialna
Referencje
Kriegers Flak OSS
Denmark
2018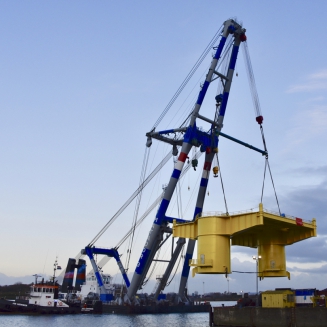 In the framework of the Kriegers Flak Offshore Wind Farm, a 600 MW offshore wind farm in the Danish Baltic Sea, together with the Combined Grid Solution interconnector project, Energinet.dk and 50Hertz Transmission GmbH awarded the Joint Venture Smulders – Jan De Nul Group the EPCI contract for 2 Gravity Based Foundations (GBF).
Smulders joins with Jan De Nul Group for the engineering, construction and installation of 2 Gravity Based Foundations (GBFs) for 2 offshore substations, serving both for the future Kriegers Flak offshore wind farm as well as an interconnector between the Danish and German power net. The interconnector project is funded by the European Energy Programme for Recovery.
The wind farm consists of 2 sections, each with its own substation. Kriegers Flak A, the west section, will have a total capacity of 200 MW. The east section, Kriegers Flak B, will have a total capacity of 400 MW.
Jan De Nul Group is in charge of the design, construction, transport and installation of the GBFs, whereas Smulders will take care of the design, fabrication and transportation of the steel shafts and decks which will be placed on top of the GBFs. The steel structures will be (pre)fabricated at the Smulders' facilities in Belgium.